Annam Brahma 
Roberto Jahn
In India your hear people often say: 'Annam Brahma, food is God'. What do they have in mind? God in the pan? Hungry for  God? So, what does God taste like? 
Ancient writings from India are based on the principle that God is in everything, and everything is in him or her. So that God is  not the old gray wise man (not a woman!) with a beard on a cloud who looks down on food. Fortunately, we live in a time  where we can let God be infinite and indefinable but at the same time also close and tangible. Yet it is often difficult to break  free as Westerners from the archetype of that one-sided god that still dwells somewhere in the back of our minds, which has  led to we now label everything that God has to do as politically incorrect. Is God perhaps something different than you think? 
God in India is present in everything, it is an unnameable, organic whole that includes all opposites, including male and  female, good and evil. Present to the smallest particle and at the same time that particle itself, in all that is observable and  imperceptible. This cohesive life energy is difficult to describe. He is not visible. But you can think him. 
Faith in the sanctity of your food first of all gives rise to gratitude for what a gift that food really is. Gratitude for the "sacrifice"  made by animals, plants, and humans to produce the food on your plate. If you assume that food is a sacred gift that  supports life in a body, then issues such as genetic engineering, organic farming, fair trade and the equal distribution of food  automatically become important issues for you. 
Religion is nowadays a fringe phenomenon in the Western society, not being religious is the norm. And around food hangs an  entire culture that is almost a religious cult in itself. Look up the word "dieting" and what you find is: "Limits oneself to small  amounts or special foods for weight loss". We are no longer used to thinking spiritually about our "daily bread". "God is not  one meter above our reality, but is in the middle of it – God is the heart, the sense, the meaning, the essence, the source of  life, nothing stuck to it." (Ds Marianne Vonkeman). 
One of the main reasons is that you have to see the spiritual nature of every living thing or phenomenon in animals, plants,  even in fungi, algae and bacteria. 
The need for food, sleep and sex is present in both animals and humans. That which distinguishes a man from an animal is  'Viveka', discernment of the spirits. Indeed, "man is more than flesh" wrote Gandhi in his moral basis for vegetarianism and  thus can make the choice for Ahimsa, not to kill or eat animals. Ahimsa (non-violence) stands for physical non-violence. But  more than that, nonviolence also applies to your thinking and speech, both towards humans and animals. The wise words of  
Krishna confirm this in the Bhagavad Gita. The Gita (5.18) states that "a learned person does not distinguish between  humans and animals. Wisdom consists of understanding that animals also have souls. They are alive, aware, and feel pain." 
Here is a story that illustrates the concept of non-violence according to the Jain philosophy. 
"On a journey, five men become starving. In the distance, they see a mango tree with beautiful ripe fruits hanging from it. The first man says, "I am so hungry that I will pull the tree root and all out of the ground and eat the mangoes." The second man says, "I'm so hungry, I'll cut down the tree and eat the mangoes." 
The third man says, "I am so hungry, I break a branch from the tree and the mangoes eat it." 
The fourth man says, "I am so hungry, I will pluck the mangoes from the tree and eat them." 
The fifth man said softly, "There's plenty of good fruit on the floor, so let's eat it." 
The allegory shows how every man commits an act of violence (ahimsa) in order to survive, just as we are all initially inclined  to do. 
The art of living in symbiosis with other living beings and our environment is so the Jains find to commit the least amount of  violence, just like the fifth hungry man, who chooses to eat the fallen mangoes." 
This story of King Prasenjit, who lived during the time of the Jain sacred Mahavira, illustrates how our environment can  influence our thoughts, feelings, behavior and thus our spiritual development. Dharma is based on the realization that  everything is part of a great interconnected consciousness, which is called God (Brahman). Every man has in his constitution  the elements and principles of the universe, from the divine down to the material. Believing in God is believing in unification or  being one with our cosmic origin. When you eat and are aware that another life, a seed, a plant, (or an animal) was willing to  become a part of you and merge with you and realize that everything is part of a great interconnected total consciousness,  what you eat not only takes on a very different effect on your body, but also on how you think and feel. Cutting down a tree,  and eating animals for the pleasure of the tongue then feels like a form of sadism. This is counterproductive to any kind of  peace and unity or spiritual progress we want to make. These are things that we must take seriously if we want to improve  ourselves or the world.  
If we assume that God is everything and everywhere and in every living being, and we start from this undivided unity in all  existence, then we are also God: Aham Brahmasmi. 
This article is i.a. based on input from: 
http://sporenvangod.nl  
https://www.faithecology.net.au/hindu_eating  
---
Annam Brahma 
Annam Brahma, eten is God, hoor je mensen vaak zeggen in India. Wat moet je je daarbij voorstellen? God in de  pan? Honger naar God? Waar smaakt God dan naar?  
Oude geschriften uit India gaan van het principe uit dat God in alles is, en alles in hem en of haar is. Die God is dus niet  de oude grijze wijze man (geen vrouw!) met baard op een wolk die neer kijkt op eten. Gelukkig leven we in een tijd  waarin we God oneindig en ondefinieerbaar maar tegelijkertijd ook dichtbij en tastbaar kunnen laten zijn, Toch is het is  vaak moeilijk om los te komen van het archetype van die eenzijdige god die ergens in ons achterhoofd leeft, wat heeft  geleid dat we alles wat die God te maken heeft tegenwoordig als politiek niet correct bestempelen. Is God misschien  iets anders dan je denkt? 
God in India is aanwezig in alles, het is een onbenoembaar, organische geheel dat alle tegenstelling omvat, dus ook  mannelijk en vrouwelijk, goed en kwaad. Aanwezig tot in het kleinste deeltje en tegeliljkertijd dat deeltje zelf, in al het  waarneembare en niet waarneembare. Deze samenhangende levensenergie laat zich moeilijk beschrijven. Hij is niet  zichtbaar. Maar je kan hem wel denken. 
Geloof in de heiligheid van je eten geeft allereerst aanleiding tot dankbaarheid voor wat voor een geschenk dat voedsel  eigenlijk is. Dankbaarheid voor het 'offer' dat door dieren, planten en mensen gebracht is om het voedsel te produceren  dat op je bord ligt. Als je er vanuit gaat dat voedsel een heilig geschenk is dat het leven in een lichaam ondersteunt,  dan worden issues als genetische manipulatie, biologische landbouw, eerlijke handel en de gelijke verdeling van  voedsel vanzelf belangrijke issues voor je.  
Religie is tegenwoordig een randverschijnsel in de westerse samenleving, niet gelovig zijn is de norm. En rond voedsel  hangt een hele cultuur die bijkans een religieuze cultus op zich is. 
Zoek het woord "diëten" maar eens op en wat je vindt is: "Beperkt zichzelf tot kleine hoeveelheden of speciale soorten  voedsel om af te vallen". We zijn niet meer gewend om spiritueel na te denken over ons 'dagelijks brood'. Laat staan er  voor te danken. Maar het is denk wel nodig om dat te gaan doen. "God hangt niet een meter boven onze  werkelijkheid, maar zit er midden in – God is het hart, de zin, de betekenis, de essentie, de bron van het leven, niets  iets eraan geplakt." (Ds Marianne Vonkeman, Sporen van God)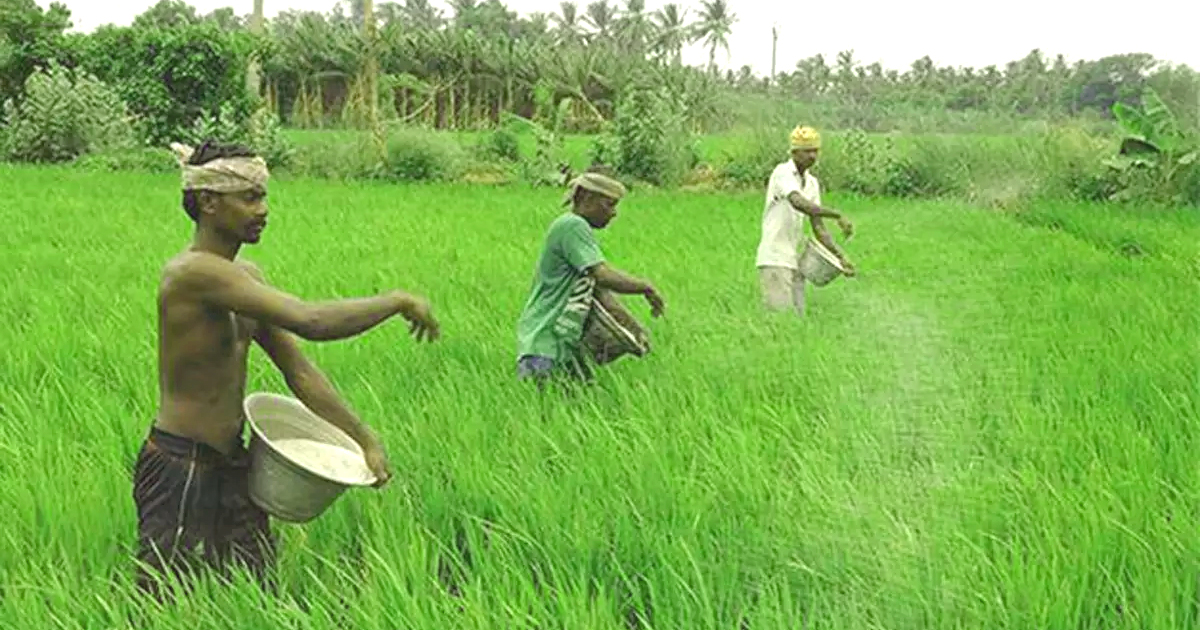 Een van de belangrijkste redenen is dat je de spirituele aard in elk levend wezen of verschijnsel moet zien in dieren,  planten, zelfs in schimmels, algen en bacteriën.  
Behoefte aan voedsel, slaap en sex komen zowel bij dieren als bij mensen voor. Dat wat een mens van een dier  onderscheidt, is 'viveka', onderscheiding van de geesten. Inderdaad, 'de mens is meer dan vlees' schreef Gandhi in zijn  morele basis voor het vegetarisme en kan dus de keuze maken voor Ahimsa, om geen dieren te doden of te eten.  Ahimsa (geweldloosheid) staat voor fysieke geweldloosheid. Maar meer nog dan dat: geweldloosheid geldt ook voor je  denken en je spraak, zowel tegen mensen als dieren. De wijze woorden van Shri Krishna bevestigen dit in de  Bhagavad Gita. In de Gita (5.18) staat dat "een geleerd persoon geen onderscheid maakt tussen mensen en dieren.  Wijsheid bestaat uit het begrijpen dat dieren ook zielen hebben. Ze zijn levend, bewust en voelen pijn." 
Er is een verhaal dat het begrip geweldloosheid volgens de Jain filosofie vertelt.  
Op een reis raken vijf mannen uitgehongerd. In de verte zien ze een mangoboom met mooie rijpe vruchten eraan  hangen. 
De eerste man zegt: "Ik heb zo'n honger dat ik de boom met wortel en al uit de grond trek en de mango's zal eten." De tweede man zegt: "Ik heb zo'n honger, ik hak de boom om en eet de mango's." 
De derde man zegt: "Ik heb zo'n honger, ik breek een tak van de boom en de mango's er van eten." De vierde man zegt: "Ik heb zo'n honger, ik zal de mango's van de boom plukken en ze opeten." De vijfde man zei zachtjes: "Er ligt genoeg goed fruit op de grond, dus laten we die maar eten." De allegorie laat zien hoe iedere man begaat een daad van geweld (ahimsa) om te overleven, precies zoals wij dat  allemaal in eerste instantie geneigd zijn te doen. 
De kunst van het leven in symbiose met andere levende wezens en onze 
omgeving is zo vinden de Jains om daarbij de minste hoeveelheid geweld te plegen, net als de vijfde hongerige man,  die ervoor kiest om de gevallen mango's te eten. 
Dit verhaal van koning Prasenjit, die leefde in de tijd van de Jain heilige Mahavira, illustreert hoe ook onze omgeving  invloed kan hebben op onze gedachten, gevoelens, gedrag en dus onze spirituele ontwikkeling. Sanatan Dharma gaat  uit van besef dat alles deel uit maakt van een groot onderling verbonden bewustzijn, wat God (Brahman) genoemd  wordt. Ieder mens heeft in zijn constitutie de elementen en beginselen van het heelal, van het goddelijke tot aan het  stoffelijke. Geloven in God is geloven in eenwording of een zijn met onze kosmische oorsprong. Als je eet en je er van  bewust bent dat een ander leven, een zaadje, een plant, (of een dier) bereid was om een deel van jou te worden en  met jou samen te smelten en beseft dat alles deel uit maakt van een groot dat onderling verbonden totaal bewustzijn,  krijgt wat je eet niet alleen een heel ander effect op je lichaam, maar ook op hoe je denkt en voelt. Het omhakken van  een boom, het eten van dieren voor het plezier van de tong voelt dan als een vorm van sadisme. Het spreekt voor zich  dat dit contraproductief is voor elke vorm van vrede en eenheid of spirituele vooruitgang die we willen maken. Het zijn  zaken die we serieus in ogenschouw moeten nemen als we onszelf of de wereld willen verbeteren. Als ervan uit dat 
God alles is en overal en in elk levend wezen, en we van deze ongedeelde eenheid in het hele bestaan uitgaan dan zijn  wij ook God: Aham Brahmasmi. 
Deze artikel is gebaseerd op gegevens uit: 
http://spoorvangod.nl access 
https://www.faithecology.net.au/hindu_eating 
Sri Swami Sivananda, Practice of Brahmacharya (1997) The Divine Life Society
---
Roberto Jahn lives in Spain. Earlier he lived in USA,  Surinaam and Holland.  He is a student of Advaita Vedanta.
Roberto is Rooms Katholiek, Vedantin en een voorstander van interreligieuze dialoog. Hij woont in Spanje. Daarvoor woonde hij in Suriname, de Verenigde Staten en in Nederland.