Read Time:
14 Minute, 3 Second
As you think, so you become!
Corne van Nijhuis
A frequently heard saying is "As you think, so you become". But is that really the case and how is that possible? Is there a mechanism, other than something like the idea "that you talk yourself into something" or "if you say it often enough, you believe it yourself" behind this? An answer to this question of whether such a mechanism exists has been given in the Vedic insights. For a good understanding of this mechanism the whole complex of karma, reincarnation and the jiva is important. In this column I will try to explain this, as I see it in its entirety.
Karma
The Law of Karma states that any intentional action leads to a karmic imprint, good or bad, depending on the merit or demerit of the action performed towards others and the world (neutral actions and experiences produce only vague mental impressions of little importance, unless strengthened by repeated exercise). Four types of intentions can be distinguished: pleasure (kāma), greed (lobha), delusion (moha) and anger and hatred (krodha). So every action, every thought, every word of ours generates two 'imprints'. This is a vasana on the one hand and a karmashaya on the other.
Vasanas
Every experience is related to a number of factors; people, sounds, tastes, smells etc. (the five senses plus the mind as the sixth.) and ethically leads to 3 possible outcomes – positive, negative or neutral. All these experiences leave impressions (samskaras) in the mind. The impression, positive, negative or neutral, then sinks into the subconscious mind (chitta).
At some point, the subconscious mind activates the latent saṁskāra (subliminal activator), which then generates a desire to repeat or avoid the experience. A repeated experience strengthens the saṁskara. An enhanced saṁskāra or group of saṁskāras produces a habitual pattern of behavior: vāsana. A vasana is "desire" in the form of a latent force, just as a seed can be the latent form of a tree. A vasana leads to the urge to keep repeating such an action.
Some of these vāsanas are actively pursued and developed and are necessary for our sociological functioning. For example, driving is a complex process that requires many vasanas (for example: learning the traffic rules, road signs and signals, vehicle control, other traffic on the road, pedestrians, etc.) All this requires learning and concentration and repeated practice. Once learned and developed into a vāsana, driving becomes "second nature": we can drive proficiently while listening to music, thinking about problems.
In addition to these positive vāsanas that are essential to our functioning as human beings, there are also negative vasanas that hinder our suffering and our efficient functioning. These are our defense and avoidance mechanisms that we use to protect our ego (and at the same time these are the ones we have to work with in our spiritual practice (sādhana).
Karmashaya
Karmashaya means 'the potential result of karma contained in the mind'. If karmāśaya is very intense, then it can even have an effect in this life. If not, it manifests in future lives. Karmashaya is thus a latent imprint that will eventually bear fruit in the future, in either joy or sorrow. This effect remains in the mind in a subtle form until it is given an appropriate opportunity to manifest. For example, those who want to reach heaven make sacrifices. In doing so, they collect good karmāśaya. Those who commit sins, such as cheating or murder, accumulate because of greed or anger, accumulate bad karmāśaya, or karmic debt.
Interplay
The interplay of vasana and karmashaya now works as follows. For example, if I go for it today smoke first, there are two impressions: vasana and karmashaya. The vasana keeps urging me again must smoke. But when I smoke again at the same time the previous light karmashaya is replaced by a stronger print. This is just like typing a text and saving the file and then typing any additional text and saving it again. It's the same file, but with more bytes. The file is heavier. Because vasanas keep insisting to do what one did and karmashaya continues to bear fruit throwing off previous actions, the challenge in life is to master vasanas. Being vasanas that make someone want to act and thus (karmic) actions undertakes. So it is only once one has mastered his vasanas that he can harness the power of karma vanquish. So he can only achieve this by "purifying the mind."
The accumulation of karmashayas (both positive and negative) and vasanas make up our mental disposition or the nature of our character. A predominance of positive saṁskāras produces a positive and benevolent mental attitude and an abundance of negative saṁskāras produces a malicious or fearful or tormented disposition.
Karma particles and the Jiva
Vasana and karmashaya are effects that manifest in a subtle form and are therefore also called karmic impressions. More concretely, you can say that every action has a leaves an imprint in the mental body (Manomaya kosha) which is part of the subtle body, more specifically: in memory (chitta). So these karmic impressions stick if it is true to the causal body (Anandama kosha) and are part of the "individual self," the jiva.
Reincarnation
As long as one's karmashaya has not already had its effect, or as long as not all karmic debts are paid, after the person's death the Jiva will have a new body to make this redemption in the next life. Both latent powers, vasana and karmashaya, to that end together 'carry' the Jiva out of the body at death and 'carry' it on the same way, prior to birth, in a new body.
According to Janism, therefore, sometime prior to the birth of a human being, the karmic impressions from previous lives (samskara) into the body. This process becomes called 'asravah'. This phenomenon is, moreover, at the same time the cause of human bondage to the earthly. 5 sources of karma particles can be distinguished: bad disposition (mithyatva), absence of self-control (avirati), dereliction of duty (pramada), passions (kasaya) and the body-mind-speech actions (yoga). Such particles are responsible for disguising the inherent power of the soul and thereby limiting it things like charity, gaining gain, experiencing pleasure, being able to show willpower and masking the conditions under which satisfaction can be achieved. This applies that (the inflowing) karmic impressions can consist of 8 types. These are impressions that obscure understanding, fear, exercise of power and morality, which generate feelings and that determine life time, status and character. The composite set of inflowing karmic impressions thus determine the identity that the jiva assumes.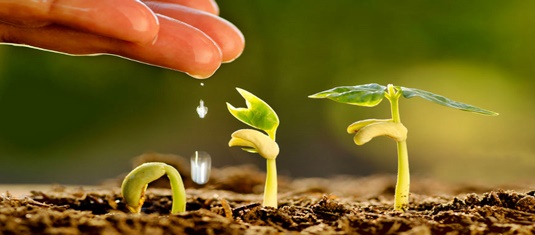 At the time of our death, the dominant karmashayas with the vasanas determine our next rebirth and all the conditions associated with it. So when it body loses weight, the Jiva laden with karmashayas and vasanas takes on another body, by which it acquires an identity according to the nature of those skarmashayas and  3  vasanas. In other words, our body we are born with, and the circumstances of our birth, as well as important events that will be experienced in our lives, are all spawned from our previous streams of thought (speak associated with them and trading).
Will you become what you think?
Every intentional action, such as acting and speaking, is by definition preceded by the think about that. And as stated before, according to the Law of Karma, every action to karmic imprints and thereby to vasanas and karmashaya. And it's both of these imprints belonging to the Jiva, which determine everyone's mental disposition. In other words: the nature and composition of the inflowing karmic impressions thus determines the character and a particular individual's preferences for the type of enjoyment in his "new" life (and even the gender and length of life). So yes, from the above perspective:
As you think, so you become. (yad bhavam tad bhavati)  
For this reason, we should be encouraged to control and modify our actions to produce a positive mood of contentment, peace, compassion and generosity and to avoid anger, resentment, aggression, violence and fear.
I hope to have inspired you with this exposition.
---
Zoals je denkt, zo wordt je!
Corné van Nijhuis
Een frequent gehoorde uitspraak is "Zoals je denkt, zo wordt je". Maar is dat echt zo en hoe kan dat nu eigelijk? Is er een mechanisme, anders dan zoiets als het idee 'dat je jezelf iets aanpraat' of 'als je het maar vaak genoeg zegt dan geloof je het zelf', wat hier achter schuil gaat? Een antwoord op deze vraag of er zo'n mechanisme bestaat is gegeven in de Vedische inzichten. Voor een goed begrip van dit mechanisme is het gehele complex van karma, reïncarnatie en de jiva van belang. Ik zal in deze column een poging doen dit, zoals ik het in z'n totaliteit zie, uiteen te zetten. 
Karma
De Wet van Karma geeft aan dat iedere intentionele actie leidt tot een karmische afdruk, goed of slecht, afhankelijk van de verdienste of de tekortkoming van de uitgevoerde actie jegens anderen en de wereld (neutrale handelingen en ervaringen produceren slechts vage mentale indrukken van weinig belang, tenzij versterkt door herhaalde oefening). Daarbij kunnen 4 typen intenties worden onderscheiden: genot (kāma), hebzucht (lobha), waanvoorstelling (moha) en woede en haat (krodha). Dus elke handeling, elke gedachte, elk woord van ons genereert twee 'afdrukken'. Dit is enerzijds een vasana en anderzijds een karmashaya. 
Vasanas
Elke ervaring hangt samen met een aantal factoren; mensen, geluiden, smaken, geuren enz. (de vijf zintuigen plus de geest als de zesde.) en leidt ethisch gezien tot 3 mogelijke uitkomsten – positief, negatief of neutraal. Al deze ervaringen laten indrukken (samskaras) achter in de geest. De indruk, positief, negatief of neutraal, zinkt ver volgens in het onderbewustzijn (chitta). 
Op enig moment activeert het onderbewustzijn de latente saṁskāra (subliminale activator), die vervolgens een verlangen genereert om de ervaring te herhalen of te vermijden. Een herhaalde ervaring versterkt de saṁskara. Een versterkte saṁskāra of een groep saṁskāra's produceert een gewoontepatroon van gedrag: vāsana. Een vasana is 'verlangen' in de vorm van een latente kracht, zoals een zaadje de latente vorm van een boom kan zijn. Een vasana leidt tot de aandrang om een dergelijke actie te blijven herhalen. 
Sommige van deze vāsana's worden actief nagestreefd en ontwikkeld en zijn noodzakelijk voor ons sociologisch functioneren. Autorijden is bijvoorbeeld een complex proces dat veel vasanas vereist (bijvoorbeeld: het leren van de verkeersregels, verkeersborden en -signalen, voertuigcontrole, ander verkeer op de weg, voetgangers enz.) Dit alles vereist leren en concentratie en herhaalde oefening. Eenmaal geleerd en ontwikkeld tot een vāsana wordt autorijden een "tweede natuur": we kunnen bekwaam rijden terwijl we naar muziek luisteren, over problemen nadenken.
Naast deze positieve vāsana's die essentieel zijn voor ons functioneren als mens, zijn er ook negatieve vasanas die ons lijden en ons efficiënt functioneren belemmeren. Dit zijn onze verdedigings- en vermijdingsmechanismen die we gebruiken om ons ego te beschermen (en dit zijn tegelijk de degenen waarmee we moeten werken in onze spirituele oefening (sādhana).
Karmashaya
Karmashaya betekent 'het potentiële resultaat van karma dat zich in de geest bevindt'. Als karmāśaya erg intens is, dan kan het zelfs effect hebben in dit leven. Zo niet, dan manifesteert het zich in toekomstige levens. Karmashaya is dus een latente afdruk die in de toekomst uiteindelijk vrucht zal dragen, in vreugde of verdriet. Dit effect blijft in een subtiele vorm in de geest totdat het een geschikte gelegenheid krijgt om zich te manifesteren. Als voorbeeld: degenen die de hemel willen bereiken, brengen offers. Daarbij verzamelen ze goede karmāśaya. Degenen die zonden begaan, zoals bedrog of moord, vanwege hebzucht of woede accumuleren verzamelen slechte karmāśaya, ofwel een karmische schuld.
Samenspel
Het samenspel van vasana en karmashaya werkt nu als volgt. Als ik bijvoorbeeld vandaag voor het eerst rook, zijn er twee indrukken: vasana en karmashaya. De vasana blijft aandringen dat ik weer moet roken. Maar als ik weer rook wordt tegelijkertijd de vorige lichte karmashaya vervangen door een sterkere afdruk. Dit is net als het typen van een tekst en het opslaan van het bestand en vervolgens het typen van nog extra tekst en het opnieuw opslaan. Het is hetzelfde bestand, maar met meer bytes. Het bestand is zwaarder.
Omdat vasanas blijven aandringen om te doen wat iemand deed en karmashaya zijn vruchten blijft afwerpen van eerdere acties, is het de uitdaging in het leven om vasanas te beheersen. Het zijn vasana's namelijk die er voor zorgen dat iemand wil handelen en dus (karmische) acties onderneemt. Dus pas zodra iemand zijn vasanas beheerst, kan hij de kracht van karma overwinnen. Dit kan hij dus slechts bereiken door 'de geest te zuiveren'.
De opeenstapeling van karmashayas (zowel positieve als negatieve) en vasanas vormen onze mentale dispositie of wel de aard van ons karakter. Een overwicht van positieve saṁskāra's produceert een positieve en welwillende mentale instelling en een overdaad aan negatieve saṁskāra's produceert een kwaadwillende of angstige of gekwelde instelling.
Karma deeltjes en de Jiva
Vasana en karmashaya zijn effecten die zich in een subtiele vorm manifesteren en worden dan ook ook wel karmische indrukken genoemd. Meer concreet kan je zeggen dat elke handeling een afdruk achterlaat in het mentale lichaam (Manomaya kosha) dat onderdeel is van het subtiele lichaam, meer specifiek: in het geheugen (chitta). Deze karmische indrukken kleven dus als het ware aan het oorzakelijk lichaam (Anandama kosha) en zijn onderdeel van het 'individuele zelf', de Jiva. 
Reïncarnatie
Zolang iemands karmashaya nog niet al zijn uitwerking heeft gehad, of wel zolang niet alle karmische schulden zijn ingelost, zal de Jiva na het overlijden van de persoon een nieuw lichaam in gaan om deze inlossing in een volgend leven te doen. Beide latente krachten, vasana en karmashaya, 'dragen' daartoe samen de Jiva bij de dood uit het lichaam en 'dragen' deze op dezelfde manier, voorafgaand aan de geboorte, in een nieuw lichaam.
Volgens het Janisme stromen dan ook ergens voorafgaand aan de geboorte van een mens de karmische indrukken vanuit voorgaande levens (samskara) het lichaam in. Dit proces wordt 'asrava' genoemd. Dit verschijnsel is overigens tegelijk de oorzaak van de menselijk gebondenheid aan het aardse. Daarbij kunnen 5 bronnen van karma-deeltjes worden onderscheiden: slechte geaardheid (mithyatva), afwezigheid van zelfbeheersing (avirati), plichtsverzuim (pramada), hartstochten (kasaya) en de lichaam-geest-spraak acties (yoga). Dergelijke deeltjes zijn verantwoordelijk voor het verhullen van de inherente kracht van de ziel en beperken daardoor zaken als liefdadigheid, behalen van gewin, ervaren van genot, het kunnen tonen van wilskracht en het maskeren van de omstandigheden waaronder voldoening realiseerbaar is. Daarbij geldt dat (de instromende) karmische in drukken uit 8 typen kunnen bestaan. Dit zijn indrukken die begripsvermogen, angst, machtsuitoefening en moraliteit verduisteren, die gevoelens genereren en die levenstijd, status en karakter bepalen. Het samengesteld geheel aan instromende karmische indrukken bepaald op deze wijze de identiteit die de jiva aanneemt. 
Op het moment van ons overlijden bepalen de dominante karmashayas met de vasanas onze volgende wedergeboorte en alle daarmee samenhangende omstandigheden. Dus wanneer het lichaam afvalt, neemt de met karmashayas en vasanas beladen Jiva een ander lichaam aan, waarmee deze een identiteit krijgt in overeenstemming met de aard van die skarmashayas en vasanas. Met andere woorden, ons lichaam waarmee we worden geboren, en de omstandigheden van onze geboorte, evenals belangrijke gebeurtenissen die in ons leven zullen worden ervaren, worden allemaal voortgebracht uit onze eerdere gedachtestromen (daarmee verbonden spreken en handelen).
Wordt je zoals je denkt?
Iedere intentionele actie, zoals handelen en spreken, wordt per definitie vooraf gegaan met het denken daarover. En zoals voorgaand al is aangegeven leidt volgens de Wet van Karma iedere  actie tot karmische afdrukken en daarmee tot vasanas en karmashaya. En het zijn deze beide afdrukken die tot de Jiva behoren, die ieders mentale dispositie bepalen. Anders gezegd: de aard en samenstelling van de instromende karmische indrukken bepaald op deze wijze het karakter en de voorkeuren voor het type genot van een bepaald individu in zijn 'nieuwe' leven (en zelfs het geslacht en de lengte van het leven). Dus ja, vanuit bovenstaand perspectief geldt: 
Zoals je denkt, zo word je.
(yad bhāvam tad bhavati)
Om deze reden worden zouden we aangemoedigd moeten zijn om onze handelingen te controleren en aan te passen om een ​​positieve gemoedstoestand van tevredenheid, vrede, mededogen en vrijgevigheid te produceren en om woede, wrok, agressie, geweld en angst te vermijden.
Ik hoop je met dit expose te hebben kunnen inspireren.
---
About the Author
Corné van Nijhuis
Mr Corne van Nijhuis is a scholar, deeply involved in the scientific study of philosophy and spirituality. Having been successful in his field, Mr Corne van Nijhuis has dedicated his time to the study and practice of Vedanta. Readiness to help always, a seeking mind, are some of his outstanding qualities. He has been a regular contributor to this magazine.
---